About us
Here at Wealden Crematorium, we offer five-star customer service in a peaceful and modern setting.  Families who choose our crematorium to celebrate the lives of their loved ones benefit from our state-of-the-art facilities and the passion and care they receive from our team.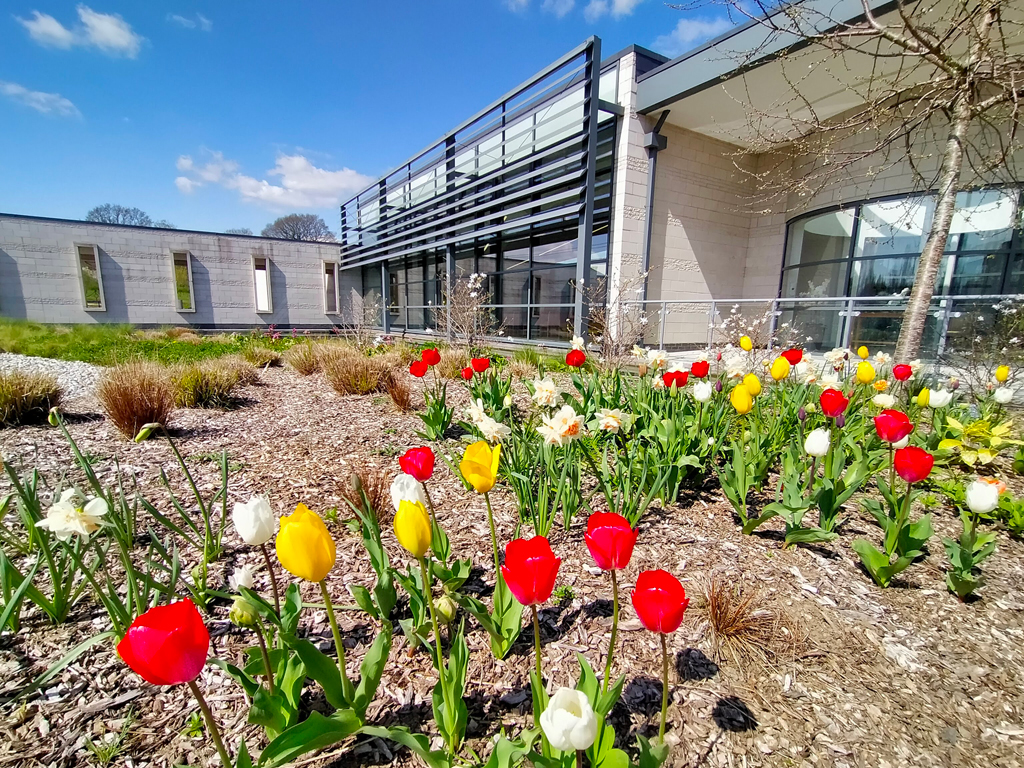 Our aim
It is our aim to provide a top class cremation service with warm unrushed services for everyone who wishes to celebrate the life of their loved one.
The facilities
We are pleased to offer you:
A ceremony hall that can seat over 120 mourners, plus ample standing room inside.
A 75-inch screen in the ceremony hall for enhanced visual tributes.
Car parking for 160 vehicles and extra space for horse-drawn hearses.
Funeral services held every 60 minutes.
Services relayed outside via screens and speakers for large attendances.
Facilities to webcast the service around the world.
Opening hours
Green credentials
The 25 acres of beautiful landscaped grounds, wildflower meadows and pasture are quickly taking on their own environmental significance.
The site features carefully planned gardens, woodland areas, grazing and wildflower meadows. New hedgerows have been planted together with nearly 8,000 trees and more than 4,500 shrubs and 4,700 herbaceous plants.
The woodland trees and hedgerows provide ideal nesting habitat for a range of bird species and a number of bat and bird boxes have been installed across the site and our herbicide policy ensures that we will keep usage to an absolute minimum.
Our Charter
The Council is a member of the Institute of Cemetery and Crematorium Management and the crematorium is operated in accordance with the Institute of Cemetery and Crematorium Management Charter for the Bereaved (external link)
The history of the crematorium
Until 2018, Wealden did not have its own crematorium. Instead our residents relied on the increasingly busy crematoriums in neighbouring towns outside the district.
The search to find a suitable location in Wealden began in the mid 2000s and in 2015 a site was found that met the Council's objectives and also passed a stringent needs assessment.
We consulted all those with an interest in the project, including of course all the funeral directors in the area, to ensure that the design responded to their needs.
Construction work began in the autumn of 2017 and the new crematorium opened in the spring of 2019.